Tropical Sounds dan Jazz, World Musik dari Bali. Musik jazz, kombinasi dengan musik tradisional Bali... TROPICAL TRANSIT RADIO BALI ( Tropical Transit dari Bali )
Tropical Transit Radio
Mendengarkan !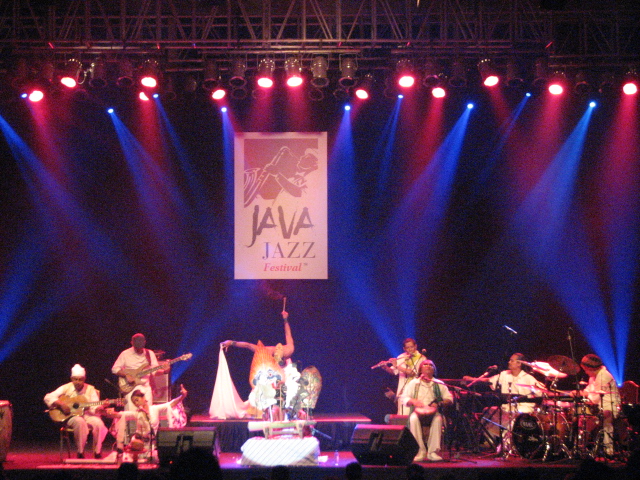 About TROPICAL TRANSIT

One of Bali's most popular and enduring bands, Tropical Transit was formed on August 5, 1990, by the group's present-day leader, the enigmatic Riwin. The scintillating strains of Riwin's acoustic guitar and his personal charisma have remained a constant feature in the music of Tropical Transit throughout the many line- up changes in the band's 19-year existence. In 1997, Tropical Transit embarked on its Panamericana Tour of Central American hotspots such as Miami, Cancun - Mexico, Honduras, Costa Rica, and Panama. In the course of this journey, Tropical Transit adopted Latin music as its main music style and Latin sounds continue to emanate from the band through regular performances around Bali's hotel, restaurant and concert venues to this day. Over the years, many visitors to Bali have become familiar with the band and actively seek out its gigs on return visits to the Island of the Gods.
In 2004, Tropical Transit began to evolve in a new direction inspired by Balinese and Javanese culture. Now, for special occasions, Tropical Transit brings out a special performance centered on original compositions written in World Music style, and a visual spectacle that puts a contemporary spin on traditional culture, ceremony and dance. The effect is a chill-out ethnic sensation that has seen the band in growing demand in Jakarta, Bandung and throughout Bali.

The philosophy behind this music is the Balinese concept of "Tri Hita Karana" (Tri meaning three, Hita meaning peace and Karana meaning cause). Thus most of Tropical Transit's songs from this more spiritual repertoire are about the love and care between people, the relationships between man and nature, and the relationships between man and God. Original compositions include "Para Dewa", "Tat Twam Asi (I am you and you are me)", "Pawisik (Whisper from God)", Bali Kashmir, and Melayang (Fly), etc...

An integral part of the special show is the "Kidung Wirama Totaka", written in the ancient language of Kawi and sung by Ayu Laksmi in a haunting performance that showcases her vocal strength and stage presence. The spectacle includes Balinese dancers and culminates with the ceremonial sprinkling of holy water (tirta) to cleanse the earth and all nature in order to attain a harmonious life. In one remarkable performance, captured on national television earlier this year, Ayu went into a trance as she chanted in Kawi and other group members were visibly caught up in the energy of the moment. Balinese audience members and even television viewers also claimed to have been affected.

Over the years Tropical Transit has experienced many personnel changes that have included some of Indonesia's best-known musicians and vocalists. Many of these artists continue to play a role in the group by appearing on special occasions.

---
Jazz adalah musik yang terbuka tidak menutup diri akan masuknya anasir lain kedalamnya. Percampurannya dengan budaya setempat dapat menjadikan jazz sebagai bentuk musik yang baru. Fusi tersebut pada akhirnya tidak harus tetap dinamakan sebagai musik "jazz". Untuk mencapai fase ini dibutuhkan penguasaan teknik dan kreatifitas yang mumpuni dari individu-individu pengusungnya. Fusi ini tidak akan terjadi pada pemain-pemain yang titik tuju musikalitasnya hanya kepada bagaimana memainkan sebuah komposisi jazz sebagus mungkin mirip aslinya.
Salah saru kelompok yang mengarah ke fusi tersebut adalah grup Tropical Transit. Dengan latar belakang budaya Bali, kelompok ini mengangkat wayang dan tari dengan balutan permainan musik. Sebelumnya harus dicamkan bahwa Anda jangan berpikir terminologi ini jazz dan itu bukan jazz saat akan menyaksikan Tropical Transit. Kreatifitas musik mereka sudah melebur antara alunan nada pentatonis dengan irama latin. Lebih baik Anda mempersiapkan diri untuk ikut larut dengan doa dan renungan di dalam lagu-lagu yang mereka sajikan.
Tropical Transit terdiri dari delapan musisi dan seorang penari. Adalah Riwin Dacuba yang memainkan akustik gitar menjadi konseptor kelompok ini. Mantan gitaris kelompok Pahama di tahun 1970an ini berkolaborasi dengan Amirosady (darbuca dan vocal), Ayu Laksmi (vocal dan kidung) , Monos (vocal, dalang dan percusion), Doddy (bass), Ketut Rico (keyboard), Boogie prasetyo (drum), dan Ardiansyah (saksofon). Seorang penari asal Gianyar bernama Nyoman Sura ikut menyumbangkan talentanya dalam formasi Tropical Transit.
Penampilan Tropical Transit di Java Jazz Festival 2009 masih dengan konsep Tr Hita Karana Konsep ini menggambarkan hubungan antar manusia dengan Tuhan, hubungan manusia dengan manusia, hubungan antara manusia dengan lingkungan/alam. Riwin dan Amirosady dikesempatan terpisah menjelaskan bahwa atas dasar semuanya itu mereka menjadikan Tropical Transit sebagai Spiritual Universal. Sebuah ungkapan spritual, sebuah doa, yang sifatnya universal atau menyeluruh.
Penasaran bagaimana sajian nyata dari Tropical Transit dengan Spiritual Universal-nya? Mari kita sama-sama meleburkan diri dengan doa mereka di panggung Java Jazz Festival 2009. ("Sajian Spiritual Universal dari Tropical Transit" by wartajazz.com - March 2009)
---
Contact to Tropical Transit Radio